The Nekci Menij Game
is a video game based on
The Nekci Menij Show
, featuring characters from the series. It is a platform game, similar to iconic games such as Super Mario.
Development of the game began during the first season of The Nekci Menij Show in 2012, but it was later suspended indefinitely. Despite this, a demo version of the game was released in 2014.
Background
Edit
David Alexander, the creator and writer of The Nekci Menij Show, began development of a game based on the series during its first season in 2012. In early 2013, a small number of fans of the series were given privileged access to a playable demo version of the game and asked to provide feedback. Work on the game stalled, and soon it was suspended indefinitely.
On 3rd December 2014, the playable demo was released to the general public as part of the 'Nekci's Advent Calendar' series of bonus videos. Its release was accompanied by a video starring The Nekci Menij Show character Lona Delery (a reference to her song 'Vedeo Gaims'), who said: "1 dey the new vershen of the game mite b finished... but then agen, we mite all die bfor that hapens."
Two days later, The Nekci Menij Show went on an indefinite hiatus; as a result, there has been no further updates on The Nekci Menij Game as of February 2017.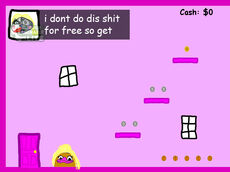 The Nekci Menij Game is a platform game, similar to the likes of Super Mario. Players play as the title character,
Nekci Menij
. The overall plot of the game is unknown, but the demo version released in December 2014 does contain one playable tutorial level.
In the tutorial, Nekci receives instructions from Xtine. However, Xtine says she doesn't work for free, and Nekci has pay her $50 to receive her next instruction. Players use their arrow keys to make Nekci run and jump around her house, collecting coins worth varying amounts: $10, $5 or $1.
Once Nekci has collected $50, Xtine instructs her to collect copies of Medoner's ablum MDNE, which have been left lying around her house "for some reason". Nekci has to jump on to a moving platform to get high enough to reach the first copy. Once she's retrieved it, she must take a phone call from Medoner, who asks her to collect more. Once the phone call has ended, Nekci must proceed through a door to the next room. At this point, the demo version ends, and the player is returned to the splash screen.
External Links
Edit
Community content is available under
CC-BY-SA
unless otherwise noted.