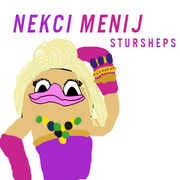 "Stursheps" is a song by Trinedadon-born raper Nekci Menij. 
Background
Edit
It was released on 2012 as the lead single from Menij's second album Penk Frondey: Remon Relodied. It was promoted as the theme song for The Nekci Menij Show.
Roman Stone Remix
Edit
The Roman Stone Remix was released on July 19, 2012. It was remixed by Roman Stone.