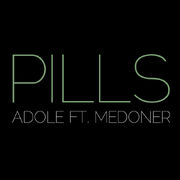 Pills is a song by Adole featuring Medoner (and, in the remixed version, Nekci Menij). It samples 'Ass' by Big Sean and is noted for being Adole's first foray in to the rap genre.
Pills came about when Medoner approached Adole for a collaboration in attempt to steal some of her popularity, after disappointing sales of MDNE. The track was included on the repackaged deluxe edishun of the album.
Pills was the first standalone single to be created using characters from The Nekci Menij Show; it has yet to be included in the show.
Background
Edit
Lyrically, the song primarily addresses Adole's superiority over Medoner, and the latter's apparent senility. Adole's lines include "Medoner is the oldest bitch I've ever met" and "Take your pills, pills, 'cause you're the oldest, I'm the best, best, I deserve the crown bitch," while Medoner sings "Follow me on Twattir before I wind up dead" and "It has only one sale, my ship has set sail." Other topics referenced include weight and Adole's pregancy.
Shortly after it originally charted, Pills was re-released as a remix featuring rapper Nekci Menij. Her verse was directly lifted from Big Sean's 'Ass' and was not changed to cover the aforementioned topics.
Community content is available under
CC-BY-SA
unless otherwise noted.