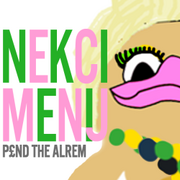 P£nd the Alerm is a song by Trinededon-born raper Nekci Menij, taken from her second album Penk Frondey: Remon Relodied.
Background
Edit
The song was released as the second mainstream single and fourth single overall from the album on 2012.
Medoner version
Edit
On October 27, 2012, singer Medoner released a cover of the single. The artwork shows Medoner standing under a dark green-colored title of the song as she is wearing an orange and black bra. The song also has a Parental Advisory sticker.
Music video
Edit
The video was shot at Trineded and Tabogo, Nekci's birthplace.
Live performances
Edit
On 2012, Menij performed the song at the 2012 Flop Musec Awerds.
Stage light incident
Edit
While Menij performed the song at the 2012 Flop Musec Awerds, the other nominees caught suspicion of her when she said in the lyrics "Bowt to win teh flop musec awerds". Nominee Kety Perr tryed to kill Menij by cutting off a stage light that was on top of her. Menij was later hospitilizied.
Aftermath
Edit
After she recovered from the incident, Perr later snuck into her house and pulled out a gun and kidnapped her along with the other known celebrities so they can all watch her film Kety Perr: Pert of Me in 3D from her not being able to because she never won the FMA and be able to share the movie while winning it.
At the 2012 Flop Musec Awerds, Menij who hosted it, wore the same outfit featured in the video.