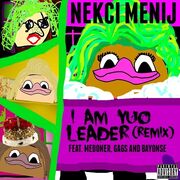 I Am Yuo Ledear is a song by Nekci Menij. It features Medoner, Ladey Gags and Bayonsé, taken from Menij's second album Penk Frondey: Remon Relodied.
Background
Edit
It was released as a promotional singel from the album. It is the second track featuring characters from The Nekci Menij Show that has been released seperately to the main series.
Composition
Edit
I Am Yuo Ledear is a hop-hip song which features its four main artists lyrically asserting their positions as the quens of flop music, while throwing shade at each other.
Nekci sings two verses, in which she raps "I get dem big hits, I got some big tits, so dat's why dey call me da quen of hop-hip," before Medoner, Gags and Bayonse sing a verse each. Despite evidently poor sales of the record, Medoner insists that "when people go shopping, it's MDNE they're choosing" before remind listeners that she's had "number one albums since before you were born". Ladey Gags suggests she's usurped Medoner by proclaiming herself "da new quen of geys", before Bayonse claims that she's superior to all three: "All you biches are copies, I sell hundreds of copies".
Although they are not credited as featured artists, I Am Yuo Ledear also features brief contributions from Adole (in Nekci's second verse) and Nicel Shitsinger (in Bayonse's verse).
Music video
Edit
The official music video for I Am Yuo Ledear was released on September 5, 2012. It is set in a wacky, colourful and oddly shaped 'playhouse'.
The clip begins with a shot of a pink mailbox, which opens to reveal Nekci standing in a pink room, with misshapen windows and Medoner heads adorning the walls. In her second verse, Nekci moves to her bathroom, where she is seen bathing in soapy bubbles. Medoner appears at the head of a banquet table in a lavish gold room for her verse, with statues of Rhenna and Brinty Spreas moving in the background.
Gags' section features footage of her in a basic pink room alongside brief clips from her own Marry The Night and Poker Face music videos, before Bayonse appears on a staircase decorated with moving pictures. As the final verse continues, da quen B also appears in a toilet and the original pink room from the start of the video.
The video features cameo appearances from Adole, Nicel Shitsinger and Kety Perr.
Bayonsé's quote
Edit
In her verse of the song, Bayonsé quotes "When I release my next album all records will be broken." December 13, 2013, Beyoncé released her self titled album "BEYONCÈ" as a surprise, it broke an iTunes record for largest sales week for an album. The fact that records were broken proves that Bayonsé was right, yet this happened two years before the album release. A similar weird coincidence happened in episode 18 "ARTPOP" where Jenaflopez says "I'm Jenaflopez, AKA LJo, AKA Jeny from the black, AKA Quen of rom coms", in June 2014 Jennifer Lopez released an album...called "AKA".